On Saturday April 3, 2010, DribbleTheWorld will have it's third female runner-Whitney Rodgers! Whit's going to be dribbling the Inaugural 13.1 New York for WorldVision in Queens to draw awareness to the need for clean water throughout the continent of  Africa.  
Fast Facts on Unclean Drinking Water: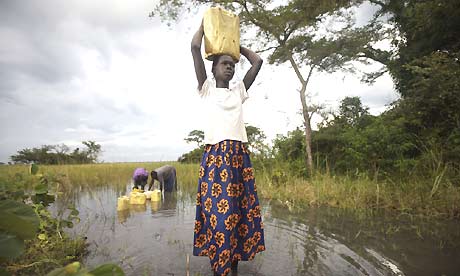 12 million people die each year from lack of safe drinking water. (WHO).
Over 80% of the disease in developing countries is related to poor drinking water and sanitation. (WHO) .
The average distance a woman in Africa walks to collect water is roughly 4 miles (www.whrnet.org).
Women are the primary caretakers for those who fall ill from water-related diseases, reducing their time available for education and productive economic efforts. (www.unfpa.org)  
In some parts of Africa, women spend almost 85% of their day getting water, increasing incidences of anemia and other health problems. (www.unhabitat.org)
"Women and children are walking miles a day to get murky water in an attempt to sustain themselves daily.  Why can't I run 13.1 miles in one day so that there might be funding to build them a well?" – Whitney
Think that's awesome? Check this out: Whit is one of the hardest working, most driven people I know. Whitney has been so encouraging in every race that she has been to! This is just a glimpse of what she is capable of doing because of the love she has for Christ. Want to see more? Read the post about her called  A Hero Emerges to learn about some of the things that Whit has done recently. 
You're going to be AMAZING on Saturday Whit!!
-ash